Not a whole lot to say about this, but I thought I'd chime in while I was on a rant about the 2015 Bonneville models.
About a month or so ago, Triumph announced the 2015 Triumph Thruxton Ace Special Edition, too much fanfare at the Ace Café in London (yawn). Back on October 11th, 2014, it was announced at the Barber Motor Sports Park, that the Triumph Thruxton Ace Special Edition will be available in the U.S. and Canada by the end of the year. But you better move fast, as there will only be 325 of these bad boys available.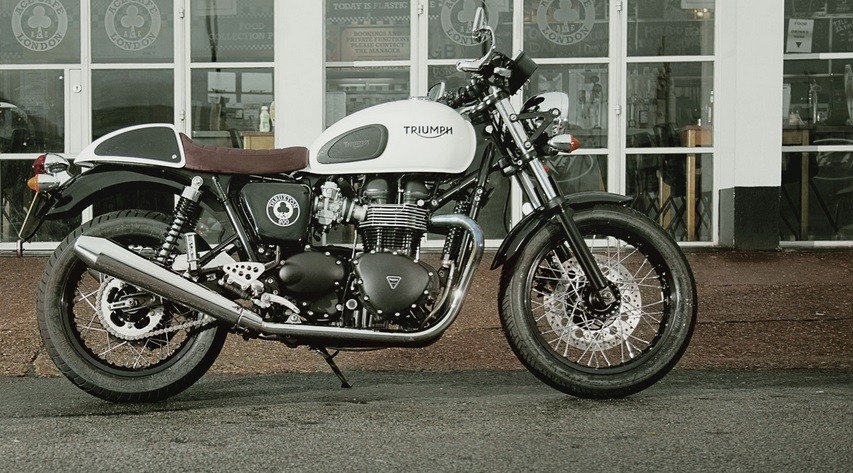 Thruxton Ace Special Edition
Let's take a quick look to see what the differences are between the stock Thruxton, and the new Thruxton Ace Special Edition model.  Well, before we get into the differences, let's see what hasn't changed:
Engine
Horsepower & Torque
Transmission
Chassis
Front Suspension
Rear Suspension
Rims/Tires
So what does that leave us that has changed?
The Color (new white paint scheme with a custom decal)
The Seat (custom oxblood seat)
The Mirrors (authentic bar end mirrors)
The Plaque (yep, it has a handlebar plaque)
Now don't get me wrong, I'm not a Triumph basher. In fact I own a 2013 Thruxton that I absolutely love. I actually dig most of the Triumph models, and just wish they would evolve the Bonneville line just a bit. While I get the fact that it's a retro bike, there's definitely some things they can do to move this into the 2015 era.
Triumph now has a total of 9 "Bonneville Type" models (which includes the Thruxton and Scrambler). This is compared to the 5 models that were available for the 2014 Model year. The Bonneville lineup has grown by over 80%, year over year, but all Triumph has done is thrown some different paint and decals on the same old bike.
Come on Triumph, I love the brand and love the bikes, but you haven't changed the Bonneville brand since you introduced Fuel Injection in the U.S. back in 2009. Take a look at your competition – hint Ducatti – have you taken note on what they just came up with (which is a whole other story/post). Here's the Thruxton Ace the way it should have been done.
Tell me what you think.  Safe riding…