As there appears to be quite a bit of speculation on the availability of the iPhone 6, thought it might be helpful for everyone if I shared this real world example. At least this will give you an idea on the current availability or lead time for purchasing a new iPhone 6 through AT&T.
Cut To The Chase
To save everyone from having to read this full article, as of mid-November 2014, there was a 13 day lead time when ordering the iPhone 6 directly through AT&T.
Migrating from Android? In a few weeks, I'll be writing about my thoughts moving back to iOS from Android.

iPhone 6 Availability via AT&T
On Saturday, November 8th 2015, I purchased the new iPhone 6 from one of my local AT&T resellers. Decided to make the switch from Android back to Apple, but that's another story.
Anyway, my local AT&T store did have an iPhone 6 in stock, but it was part of a bundle with a no-name tablet that you needed to purchase a data plan for. No thanks… If I wanted the iPhone, it would need to order it and have it shipped.
I was told there is a 3 – 4 day wait for the new iPhone 6, which will be shipped directly to my residence. The estimated ship date for the phone at the time of sale, and according to the order status on the AT&T Website, was estimated to be between Nov. 12th – Nov. 14th.
The iPhone 6 Plus availability is a different story. While I don't have a means to verify or track that, what was communicated to me at the AT&T store was the wait time was between 3 and 4 weeks.
iPhone 6 Availability Timeline
Nov. 8th – Purchased iPhone 6
Nov. 13th – The AT&T Website is still estimating the ship date between the 12th and 14th of November
Nov 14th – Here we go, received the following email from AT&T
Nov 20th – Received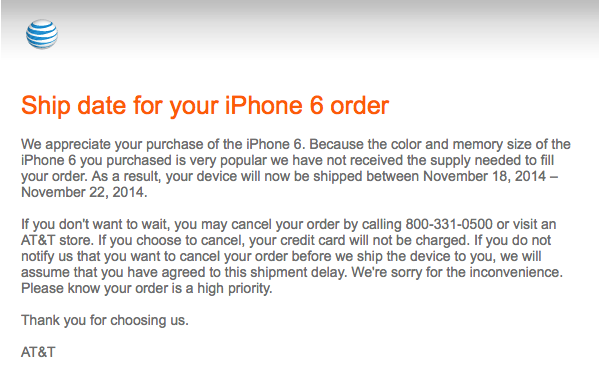 So there is about a 2 week lead time in ordering the iPhone 6 through AT&T, to be exact 13 days.
BTW – The iPhone that was ordered was the 16GB model in black.
I'll continue to update the above timeline so you can get a better perspective on the availability of the iPhone 6 (at least through AT&T).