The Bell RS-1 Helmet is by far the best motorcycle helmet I've ever owned.  Ok, so I've only owned 2 motorcycle helmets in my entire life, but I'm being serious, this is the best helmet of the two. All kidding aside, I can't begin to say how much I like this motorcycle helmet, and I'm going to tell you all about it in this Bell RS-1 Review.
I didn't want to spend $600 – $800 on a new motorcycle helmet, but I wanted something that was going to meet the following requirements:
Superior Head Protection
Adequate Ventilation
Quiet (minimum wind noise)
No Vision Restrictions
It wasn't going to cost me a fortune (wanted to keep it under $400)
I'm the type that has to do all kinds of research before buying anything.  Web Bike World is the best site I've come across on product reviews for motorcycle riders. They have an entire section dedicated to motorcycle helmet reviews, including a Bell RS-1 review, and tons of information to be aware of before purchasing a helmet. If you're in the market for a new motorcycle helmet, be sure to check out this site.
And if you're interested in checking out some visors for the Bell RS-1 Helmet, check out my visor review.
The Bell RS-1 Helmet Review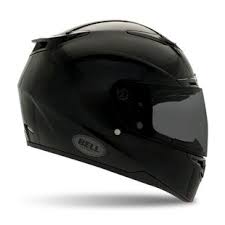 Sizing/Fit
The first challenge I had was with the size/shape of my head. Come to find out, not all motorcycle helmets (or brands for that matter) are created equal in terms of the type of head they are made for. My head shape is more narrow then it is round, so right of the bat that limits the number of helmets that will properly fit me noggin. If you have a narrow head, the Bell RS-1 Helmet was made for you.
The fit is perfect for me.  I have a smaller head, so I went with the small size. It was a bit of a tight fit when I first pulled it on, but it seems to have loosed up a bit after use. The helmet fits snug, which is exactly what I wanted. The sizing suggestions for the manufacture appear to be right on. I was on the top end of the small size when measuring my head and debated about jumping up to a medium size, but I'm glad I stuck with the small.
Comfort level is amazing. The helmet liner has a plush material on all of the padding and chin guard liner, which makes it very comfortable to wear.
Safety
The Bell RS-1 Helmet meets both DOT and Snell 2010 safety standards. Consider this an added bonus, as most helmets I was looking at only met the DOT standard.
Design
One of the nice things about this helmet, is the number of colors and designs you can choose from. It also has a spoiler at the back of the head to help with aerodynamics. It's actually a very cool looking helmet. Given the Bell RS-1 Helmet is at least 4 years old, you can really find some good closeout deals at Amazon on some of these designs.
Cost
The Bell RS-1 helmet had a list price of $400 back in 2011 when it was first released. As I mentioned above, you can find some very good deals on this helmet that will keep the cost in the $200 – $300 price range (sometimes even cheaper).
Ventilation
There are 3 vents on the front of the Bell RS-1 helmet, the chin, forehead, and at the top of the helmet. There are 4 ventilation exit ports at the back of the helmet, 2 at the top and another 2 at the bottom near the neck guard.
With all 3 vents open, I can easily feel the cool breeze flowing through the entire helmet. I have yet to take it off and find my hair full of sweat.
Noise
You would think with all this ventilation, you would hear a lot of wind noise with this helmet. Not true. I actually can't believe how quiet the helmet is. I normally ride with ear plugs, and this was a must have with my older helmet. With the Bell RS-1, I can ride without ear plugs and it's damn near as quiet as my old helmet with ear plugs in.
Visibility
Visibility is excellent in terms of both vertical and horizontal views. I don't experience any viewing restrictions when wearing this helmet.
Miscellaneous
A few other things to be aware of in this Bell RS-1 helmet review. The strap connects with double D rings, and has a magnetic fastener for the excess strap which is very easy to use. No more trying to find that damn snap to connect the excess strap to.
The visor is extremely easy to operate. There is a locking mechanism on the left of the visor which will keep the face shield locked down. This same lever will also crack the visor ever so slightly to allow for easy defogging on those cool mornings. The neatest thing about this is how easy it is to change the visor. No tools needed. Simply snap out the old visor after pulling the lever, and snap in the new visor. You can easily swap out your face shield in less than a minute.
Bell RS-1 Review Summary
Would I purchase the Bell RS-1 helmet again? Without a doubt, yes! If they are still cranking this baby out in another 5 years, I'll be buying another one. You can't beat the price and I have to believe it rivals the higher prices Shoei or Arai helmets that will set  you back well over $600.
You can purchase the Bell RS-1 Helmet directly from Amazon in a number of sizes, colors, and designs. Here are just a few of the options available in Amazon right now.
By the way. I've updated this review to reflect my opinion after wearing the thing for the last 5 years, still a great helmet. Take a peek at my updated Bell Helmet review right here.