I recently dropped my Triumph Thruxton in a very low speed maneuver in a parking log, which resulted in a busted motorcycle foot peg. Needless to say I was pissed with how it happened, and I should have known better. Luckily as a result of the drop, there was minimal damage to the bike. The biggest issue was the right foot peg snapped right off, and I had to get creative in getting the bike back home.
Given the riding season here in Michigan isn't the longest, I immediately set out to find a replacement for my busted foot peg. While I found multiple options for both an OEM foot peg as well as a Yamaha foot peg which in theory should work, the shipping time for both was going to be close to 2 weeks. I wanted to come up with a quick fix for this busted foot peg that would last until i received the replacement parts that I had ordered.
Busted Motorcycle Foot Peg (Quick Fix)
What I ended up doing to repair my busted foot peg was simply apply some JB Weld. The most simple fix I could possibly come up with that would get me back on the road. Here's what I ended up doing:
Purchased the JB Weld KwikWeld formula for my local Lowe's
Cleaned all parts of the busted foot peg with mild detergent
Mixed equal parts from both tubes of the KwikWeld formula
Applied a simple bead of the KwikWeld to one side of the busted foot peg
Reattached the busted foot peg pieces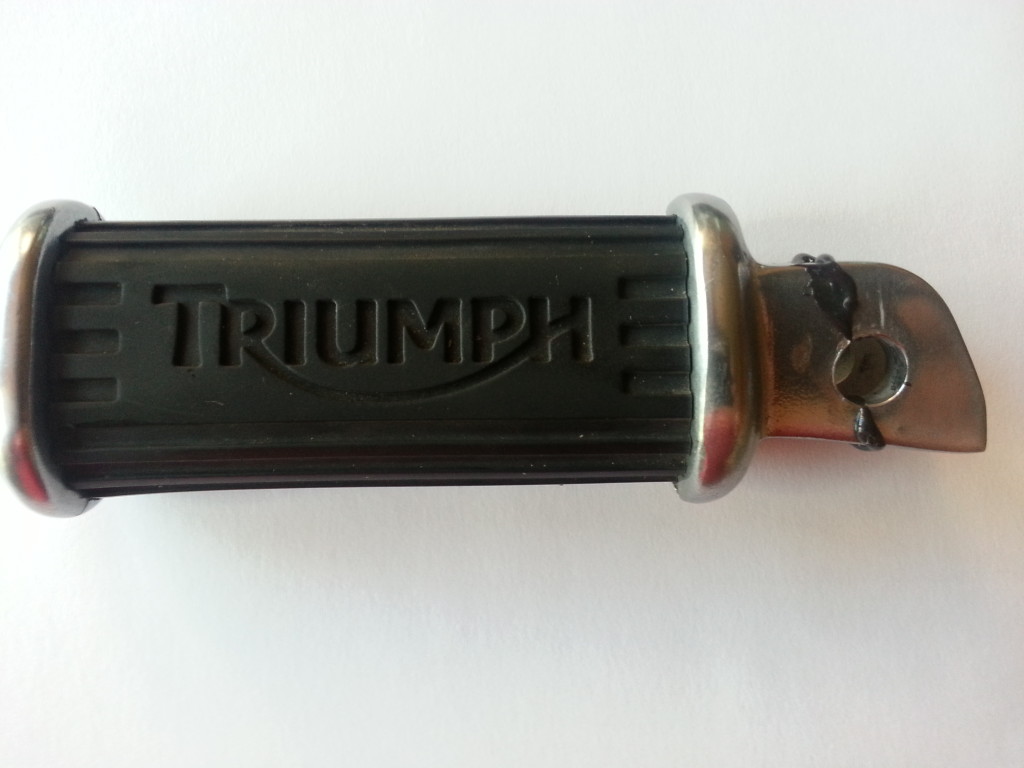 That's really all there was to it.  The entire process took all of 10 minutes. The JB Weld doesn't set up immediately, so I was able to take my time and align the pieces so they fit as required. After about 5 minutes, the weld seemed to set up. I let it cure overnight and when I checked it in the morning, it was solid!
This isn't meant to be a permanent fix, although it does appear to be holding up very well. I was only looking for a quick fix that would allow me to ride until my replacement parts arrived.
I hope this helps anyone that has a busted motorcycle foot peg, at least to give them a quick fix so they can get back on the road as soon as possible.