I can't get the damn sound out of my head:
DigaDigaDigaDigaDiga…
Every time I started up my Thruxton with the stock pipes all I heard was this sound.
Some people say it sounds like a sewing machine. Whatever it was it drove me crazy:
DigaDigaDigaDigaDiga…
I had to do something about it. Had to put some new pipes on the ole Thruxton.
So what did I choose? The Dominator Touring Exhaust by Triumph Performance USA, and I couldn't be happier! With that, I bring you this Dominator Exhaust Review.
Dominator Touring Exhaust vs. Dominator Sport Exhaust
Maybe we need a quick history lesson first, and I do mean quick.
Matt Capri was the original designer of the Predator Exhaust. He took that design, improved it, and created the Dominator Sport Exhaust. He than took it a step further and created the Dominator Touring Exhaust. I mean there's a little more to it than just that, but that gives you the basic idea…
So what's the difference between the Dominator Touring exhaust and Sport models?
Dominator Sport Exhaust
Louder of the two models – think Predator
Dominator Touring Exhaust
Slightly quieter than the Sport
Boost in low-end torque
If you really want to get technical. According to the folks at Triumph Performance USA (and I have the email from them), the Touring is about 7 db quieter than the Sport and gives you a bump in RWHP of 13.
I went with the Dominator Touring Exhaust, mainly because I wasn't looking for super loud. My main requirement was having some pipes that gave the bike a little more character, that were louder than stock. That's what I got!
The Results
Here's my perceptions of the ordering through install process, with a few pictures thrown in for good measure.
Ordering
Ordering couldn't have been easier. I had a few questions prior to the order, which were quickly answered by Carlos via email at Triumph Performance USA.
Edit 3/1/17: Triumph Performance USA is no longer in business.
Once the order was placed, I had my new Triumph Thruxton Dominator Touring exhaust in my hands within a week's time.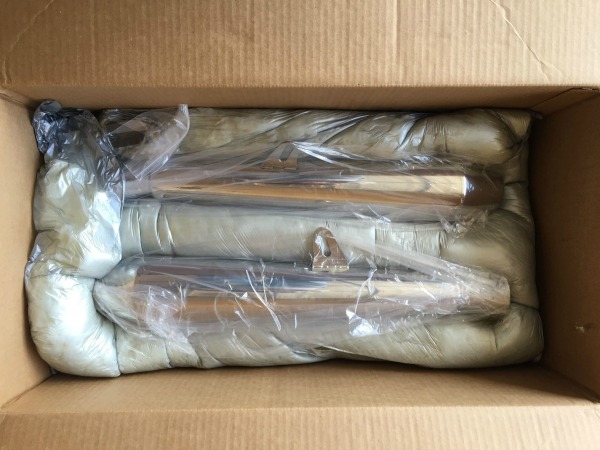 Installation
So I'm not the most mechanically inclined person on the planet, but I do like to tinker with things. After watching a few videos on YouTube, the installation process didn't appear to be all that difficult.
I had the stock pipes off the bike, and the new Dominator Touring exhaust on within an hour. Overall, pretty simple process.
The one thing I was a little confused about was whether I wanted to use any type of sealant on the new exhaust. There seems to be some conflicting information related to this on-line, so I wasn't really sure what I wanted to do.
Luckily my father-in-law rebuilds old Triumph's, and he told me he never uses any type of sealant when he's putting new exhaust's on his bikes. That was good enough for me!
Just be sure you firmly tighten the clamp that goes over the new slip-on where it connects to the header pipe. I didn't have the clamp close enough to the edge of the connection, or it wasn't tightened enough, and I was getting a little condensation leak at the connection point. One I repositioned the clamp and tightened it down, I didn't have any other issues.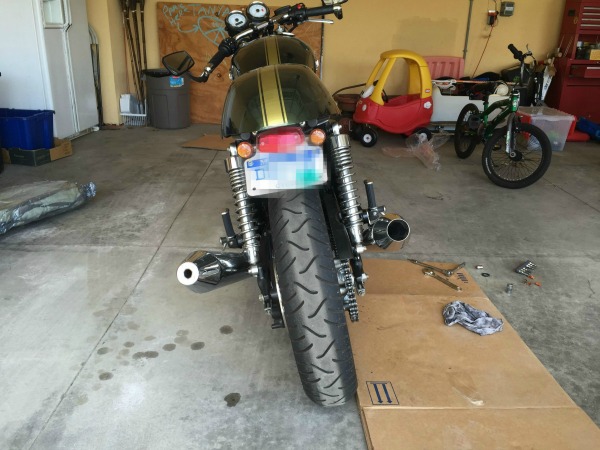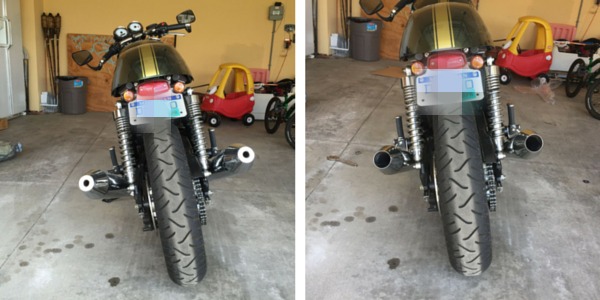 Sound Quality
Holy Shit! That was my first reaction when I started the bike. It sounded like pure music. A deep rumbling sound that wasn't too loud, just pure awesomeness.
Had to take it out for a quick spin to hear the sound when I got on the throttle. I think I orgasmed in the saddle. Amazing – this is what I was looking for.
I also did some unscientific before and after sound measurements using my iPhone, just to understand the "loudness factor":

Remapping
After the test run, my biggest observation was I needed to get the bike remapped. Major popping on deceleration. It actually sounded pretty cool to me, but I didn't want to risk causing any damage to the engine (if that's even possible). Besides, in order to take advantage of any performance improvements, I needed to get it remapped.
My Thruxton is still under factory warranty, so I didn't want to screw around with putting a non standard map on the bike. That will come later.
So, one of the questions I had for Carlos was around what map to use after I installed the exhaust. His suggestion was to go with the Arrow 2 into 2 map.
A quick run to my local Triumph dealer would get the map updated. Besides, it was an excuse for a nice ride. $50 and 40 minutes later, I had the new map installed.
The verdict is still out on the Arrow map. This is going to sound weird, but I actually think I had slightly better low-end performance with the stock map.
It seems like I need to let the bike warm up a bit longer than what I did in the past. There's also been a few times in the morning when I had some issues firing the Thruxton up. I've actually had to use the choke (fast-idle knob) to get it to start. Never had to do that in the past.
I'm sure it's related to the new Arrow map. My Thruxton is out of warranty come August, so one of the things I'll be doing later this summer is making a few engine mods, and putting a new map on that was created for the Dominator Touring exhaust.
Conclusion
I couldn't be happier with the sound on the Dominator Touring exhaust. It's exactly what I was looking for!
While I may not be 100% satisfied with the Arrow map, it's not all that bad either. Let me know if you've had similar issues, or maybe it's just in my head.
I want to do a quick sound bite of the new exhaust, so as soon as I get around to doing that, I'll put a link up on this post.
I'm also in the process of monitoring the gas mileage with the Dominator Touring exhaust as it compares to the stock exhaust.
And that's it for this Dominator Exhaust Review. Let me know what you think.