I recently upgraded the stock shock absorbers on my 2013 Triumph Thruxton to the Hagon Road Shocks.  While I've done a bit of buzzing around town since that upgrade, yesterday was the first time I had it out for an extended ride. The ride was actually my normal commute to work, and I purposely took the Triumph on some of the rougher roads that I typically avoid.
With that said, I thought it would be useful to give the readers of this blog my perspective on upgrading the rear suspension of the Triumph Bonneville lineup (Bonneville, Thruxton, Scrambler). 
Here's my view on doing a Hagon rear shock absorber upgrade to the Triumph Thruxton.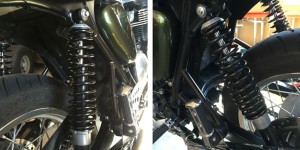 Why Even Bother Upgrading the Shocks on the Bonneville Lineup?
When I first got my bike, everyone was saying the first mod you should do is upgrade the suspension. Screw that, I actually didn't think it was that bad, and besides I wanted some new louder pipes.
Well, after riding the Triumph Thruxton for 3 seasons, I actually started to realize how crappy the rear shock absorbers really are.
The roads in SE Michigan aren't the greatest, and a number of roads out by me are just down right shitty. I've got frost heaves to deal with, and a road in my local township that has got to be one of the worst roads I have ever travelled on.
I really got tired of having my spine jarred every time I want down one of these roads. The one main road that I often travel, has frost heaves that go on for about a 3 mile stretch. I'm literally bouncing all over the place every time I hit one of these heaves, and I can fill the bump up through my entire back side.
This is why I decided to upgrade to Hagon shocks for my Triumph Thruxton. 
Why Hagon Shock Absorbers for my Thruxton?
As you probably know, there are quite a few options that exist if you are looking to upgrade the rear shocks on your Triumph Bonneville, Thruxton, or Scrambler.
Hagon shocks appealed to me, as they seem to get great reviews and they won't cost  you a fortune.  Sure there are better shocks out there, but I really had no interest in spending up to $1000 for a pair of Ohlins. I mean it's a Triumph Thruxton, not some super sport race bike that I'm taking to the track.
My Hagon's set me back under $250, that included shipping, so I thought that was a fair amount to upgrade the rear suspension.  Anything had to be better than the stock suspension.
Ordering Hagon Shocks
If you are interested in ordering a pair of Hagon Shock absorbers, I highly advise you to contact Dave Quinn Motorcycles. Dave is a reseller of Hagon shocks, and he'll custom fit these to your specifications. Much better than blindly ordering from another site.
Simply provide the type of riding you typically do, your weight, whether or not you carry a passenger or luggage, and whether you are looking for a smoother or firm ride. As Dave told me, "any Hagon shock absorber will be an improvement over the stock units".
I had numerous email exchanges with Dave, and a phone call to sort out the exact spec I was looking for. 3 business days later, I had some new Hagon shock absorbers ready to install on my Thruxton. 
Hagon Shock Upgrade Triumph Thruxton
Now that I had the new shocks in my grubby little hands, it was time to install them. I had never done this before, so I was a little nervous on how easy the task would be.
First things first, you need to get the load off the rear wheel. Easy enough if you have a center stand, unfortunately I do not. Plan B – use a jack to slightly lift the bike, just enough to lift that rear wheel ever so slightly.
Pop off the 2 bolts that hold the shock to the frame, remove the old shock (they'll slide right off), and fit the new Hagon shock absorber. You may have to adjust the load on the rear wheel somewhat to get the fittings to align correctly to the shock. It was extremely easy with the jack, as I could simply lower it slightly to put the necessary load on the rear wheel to align the posts to the fitting on the shock..
Add some Loctite (blue) to the threads on the bolt, and tighten them down. Triumph recommends that you replace the bolts when replacing the shock, and I would strongly recommend that you follow the guidance (read on to see why).
The shock bolt size required for the Bonneville and Thruxton is: M8x1.25/20mm (25mm will also work).
Be very careful when torquing these down to Triumph's recommended settings (28Nm or just over 20 ft. lbs.). The bushing on the shock is rubber, and if you tighten them down too much, you'll compress the rubber and it will deform. So instead, tighten them down until you start to see the rubber slightly deform and be done with it. The Loctite will keep them in place.
All in all, it should have been less than a 30 minute job. It's really that easy. I say should have been, that was before I cracked one of the bolts that held the shock to the frame trying to torque them down to just under Triumph's recommendation. Which is why I'm recommending that you replace the bolts with new ones, and be careful with torquing them down.
The Ride With My New Hagon Shock Absorbers
As soon as I got my cracked bolt extracted, and the new Hagon's on the bike, I was ready for a quick test ride.
One word – Wow!
I immediately took my Thruxton with its new Hagon shock absorbers to that one stretch of road covered in frost heaves. While the ride wasn't the smoothest of rides in the world, the first thing I noticed was I didn't feel the jarring in my back that I felt with the stock shocks. And it was definitely smoother than the ride with the stock shocks.
My commute into work yesterday was by far one of the smoothest rides I ever had on the bike. There are a number of areas on my commute where I just know to expect a bumpy ride, and the new Hagons just took everything in stride. It's like night and day. Upgrading to Hagon shocks on my Thruxton made a huge difference.
Now don't expect this upgrade to take the worst of roads and make it feel like you're on some magic carpet ride. You're still going to feel the bumps, you just won't feel them in your spine any longer. On average roads, where I could feel the bumps from time to time, the Hagon's completely smoothed out the ride.
Would I recommend Hagon shocks for your Triumph Bonneville, Thruxton, or Scrambler. Absolutely yes!!! By far the best upgrade I've done so far.
I should point out, there is a downside. Now that I've smoothed out the rear suspension on my Thruxton, I've discovered just how bad the front springs really are.
That will have to wait until next year.