So you're wondering how to start a WordPress Blog huh?
Let me start off my saying, this is not your regular WordPress post. I won't be creating some 3000 word article with screen shots that lays out how to start a WordPress Blog. Nope. That's already been done like a gazillion times.
What I will be doing is creating a series of video's, broken into manageable chunks, that will show you how to start a WordPress Blog.
No need to watch an hour plus video, trying to find the golden nuggets that you are interested in. Don't waste your time watching a 10 minute video that tries to cram in everything you need to know to start using WordPress.
Simply pick the video's you are interested in, watch the content, and start your blog.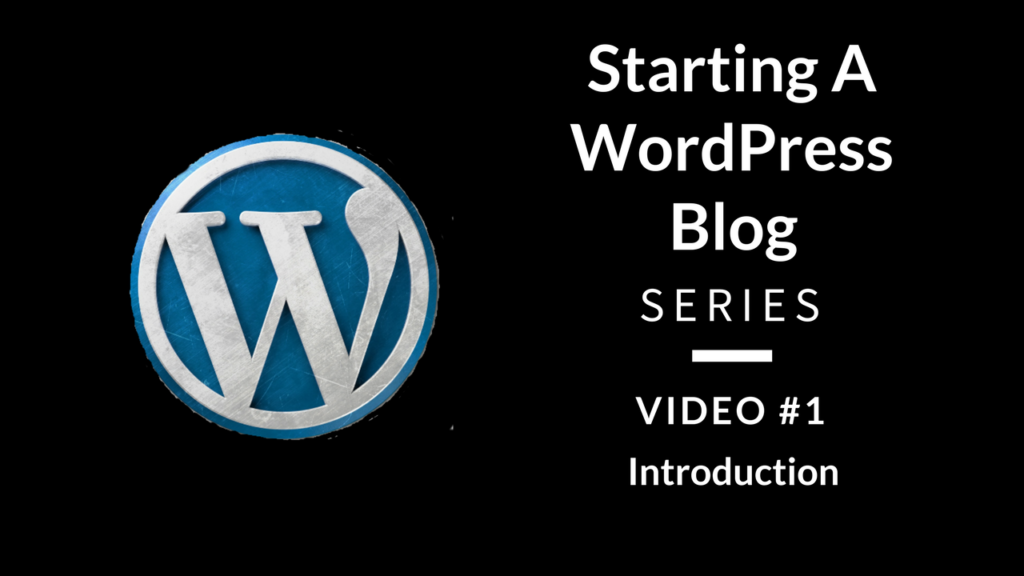 How To Start A WordPress Blog (Video Series)
Let's be clear about something. This video series was created for those of you that are interested in starting your own WordPress Blog.
The intended audience of this video series is those that know nothing about starting their own blog. However some of the video's in this series will be beneficial to those that may want to get a better understanding of a specific topic.
This video series on starting a WordPress Blog will cover the following topics, all done in their own easy to digest video:
Finding A Hosting Provider
Installing WordPress
Overview of the WordPress Dashboard
Configuring Your Blog
Understanding and Installing Plugin's
Installing the 6 must-have Plugin's For Your Blog
Configuring the Critical Plugin's
Creating A Post
Understanding Search Engine Optimization (SEO)
Improving Site Performance
Below you'll find a brief snippet of each video that's been published. I'll plan on updating this post as newer videos are created, so you can simply link to the content. Better yet, why not just subscribe to my YouTube Channel so you don't miss any future content.
On with the video's in my How To Start A WordPress Blog series.
Be Sure To Subscribe
Before we get into the video's, just want to ensure you have the option to subscribe (don't forget, that's important).
If you're interested in the AWS platform (Amazon Web Services), you definitely don't want to miss out on subscribing. I'm doing a number of interesting things with that.
Hosting A WordPress Blog
What exactly do you need to host a WordPress Blog? It's really not that difficult, but if you've never dealt with a Web Hosting provider, it can be somewhat confusing.
In this video, we'll discuss the different hosting providers, talk about finding a domain name, and finally pick the right hosting plan for your blog.
Direct link to WordPress Hosting Providers and Plans
Installing WordPress
Now that you've found a hosting provider and plan, it's time to install the WordPress application. Don't freak out on me just yet, WordPress is actually very easy to install.
In this video, we'll show you how to navigate GoDaddy (the hosting provider I'm using in this series). We'll discuss the CPanel application, and finally show you how to install WordPress.
Direct link to WordPress Installation Guide
The WordPress Dashboard
The first time you access the WordPress dashboard, it can be a little overwhelming. Let me help take away the confusion and explain what the WordPress dashboard is all about.
Direct link to WordPress Dashboard Overview
WordPress Plugins For Beginners
Now that we have our blog up and running, how do we make it even better by extending the functionality of WordPress.
A simple explanation of WordPress Plugins. What they are, how you install them, and most importantly, what are the 6 must have plugins that no blog should be without.
Direct link to WordPress Plugins For Beginners.
Optimize Your WordPress Performance
We have a blog, we've extended the functionality by adding some Plugins, so now we need to ensure your new website is loading as fast as it should.
This video will cover how you go about understanding how fast your blog is loading, and we'll explore some tools that will help with identifying that. Once we have that information, we'll set out to improve the performance of your blog using 2 of the plugins that we covered in the previous video.
Both W3 Total Cache and EWWW Image Optimizer will help us improve your performance. We'll explore what the appropriate settings are for each of these plugins, and see what impact they had on our performance.
Direct link to WordPress Performance Optimization