If you are about to migrate your site from WordPress.com to a self hosted WordPress blog, the easiest option by far is to use the wordpress.com site redirect upgrade.
Today we'll be discussing the proper way of setting up your Permalinks, leveraging the WordPress.com site redirect upgrade. And if you are worried about impacting you results in the Search Engines by doing the site redirect, don't be.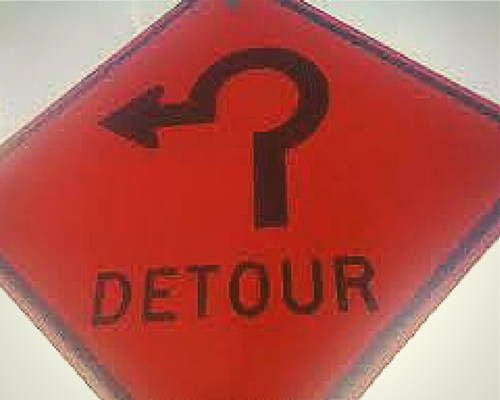 Migrating From WordPress.Com
First off, there is absolutely nothing wrong with hosting your site on WordPress.com. I've had great success using this platform for my personal blog, both in terms of usability and SEO. Yes there are some limitations with the platform, but if you're just starting off with a personal blog, you really can't beat the price (can you say free).
If you do decide to migrate, there are a few steps you should do to ensure your migration goes as smoothly as possible.  I'm not going to touch on this in great detail, as there are plenty of other posts out there that cover the specifics. If you do want some additional details, I suggest reading Julie Deneen's Fabulous Blogging post on Moving A Blog Checklist.
Here are the basic steps you need to follow if you are implementing the WordPress.com site redirect upgrade:
Document The URL's Of Your Existing Blog
Be sure to document the URL's of your existing WordPress.com site. This will come in handy when you verify the WordPress.com site redirect is working as intended.
The easiest way to do this is to copy/paste the URL for each of your posts (or pages) into a Word document. That way you can easily click on those links to verify the site is redirecting appropriately after you complete the upgrade.
Set Up Your New Blog
If your migrating to a self hosted blog, I'm assuming you already have a domain that you've purchased as well as a hosting provider. If not, now's the time to do that.
When setting up the Permalink structure for your new blog, be sure to select the Day and Name option.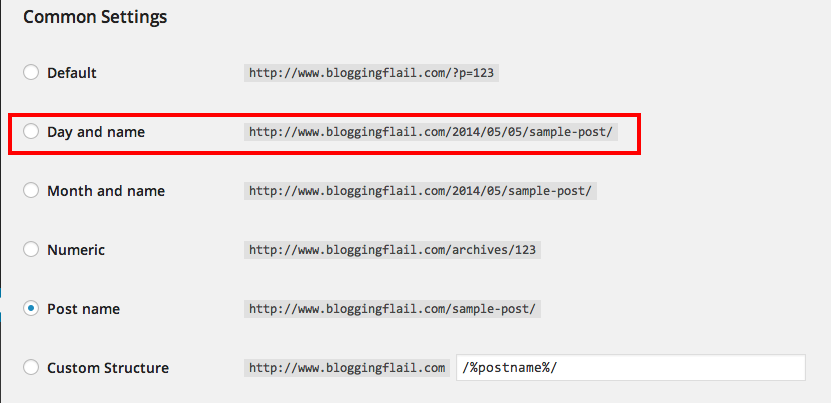 While this isn't the most friendly format for SEO, it's needed to ensure the site redirect will work. We'll touch on this more below.
Request a Site Redirect
Once you've exported the content from you existing WordPress.com site and imported it into your new self-hosted blog, you're ready to request a site redirect.
From your WordPress.com Dashboard, select Store, then select the Site Redirect Option.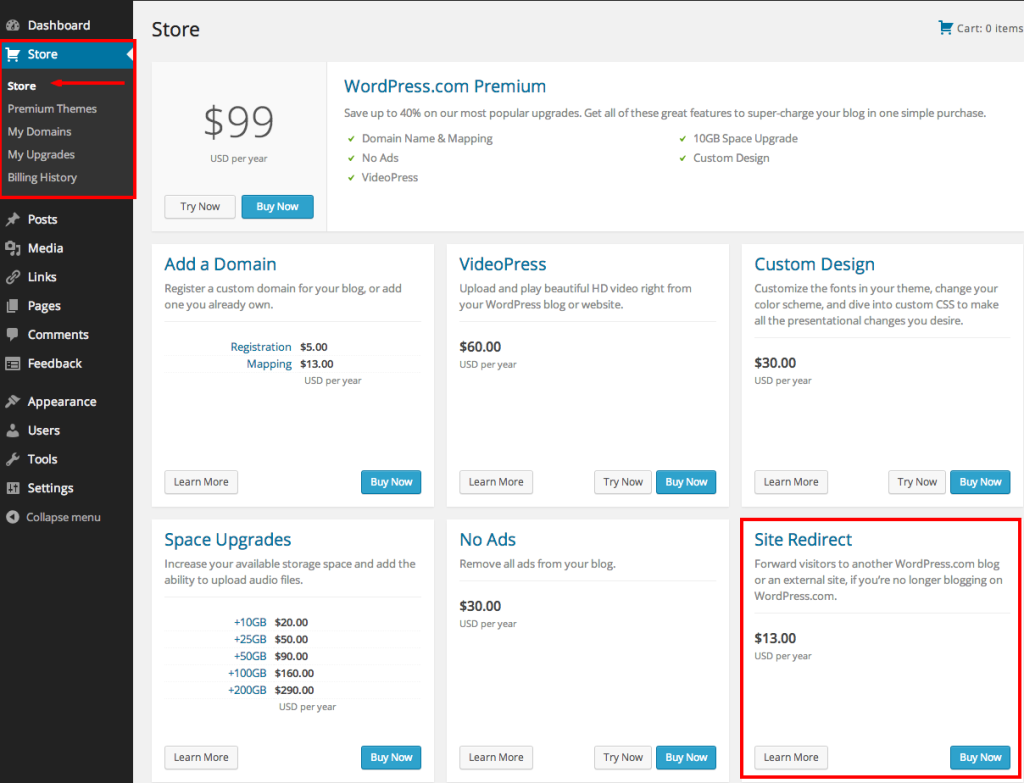 This upgrade will cost $13/year and will ensure any visitor to your existing URL (either human or bot) will be redirected to your new site. The end result is a 301 redirect implemented on your WordPress.com site, which will pass along any "link juice" coming from other sites that are linking to your existing site.
Here's the catch, the WordPress.com Site Redirect Upgrade will only redirect to the same exact Permalink structure on your new site.
How long do you need to keep this redirect in place? My personal opinion is you only need it for the first year. By that time all the search engines have indexed your new site, and that gives you plenty of time to establish your new blog. I would also reach out to the web masters of any site that is linking to you, and ask them to update their links to point to your new site.
WordPress.com Site Redirect Upgrade
The Permalink structure of a WordPress.com site is in the following format:
www.example.com/yyyy/mm/dd/your-post-name
This can't be changed. Unfortunately that's one of the limitations that come with a free WordPress.com blog.
As I mentioned above, you need to ensure that your new self hosted blog is set up with the exact same permalink structure, otherwise the WordPress.com site redirect upgrade will not work.
There are some posts that suggest updating your Permalink after you've imported all your posts, as WordPress will automatically create a redirect to that new URL It doesn't work! WordPress will create a redirect for you if you change your slug name, but it won't work if you update the entire Permalink structure. You'll have to implement a redirect plugin if you want that to work.
Redirect Plugin's
Which leads us to the next topic. If you want to update the Permalink structure of your new site, you can always use one of the many redirect plugin's that are available. I personally use the Simple 301 redirect plugin, as it does exactly what it needs to without a lot of bells and whistles.
A word of caution, be careful of the number of redirects that are being done from your old site to your new site. Google doesn't seem to mind 2 or 3 cascading redirects, but anything after that and you'll start to loose any incoming link value.
So if you truly want to update your Permalink structure to be a little more SEO friendly, follow these steps:
Wait at least 2 – 3 weeks to ensure the search engines have crawled all of your old links after the Site Redirect Upgrade was implemented. This will ensure Google is picking up the 301 redirect to the new site.
If you have any valuable incoming links, reach out to the Web Master of those sites and ask them to update those links to point to your new site
Update the Permalink structure on your new site, using the Post Name structure
Implement a 301 redirect plugin on your new site, and force a redirect from the old Day and Name structure to the new Post Name structure URL
This should limit the number of redirects taking place to two (one to the old Permalink structure that you had to use and the second to the new Post Name structure). Keep in mind, this is only being done if someone is following a link to your old site. In most cases, a user is clicking a link in the SERP's which is already pointing to your new Permalink structure.
Let me know if you've ever implemented the WordPress.com site redirect upgrade and how things worked out for you. I'd also like to hear your experiences with updating the Permalinks after the upgrade.
And if you are just starting out trying to create a self-hosted WordPress blog, be sure to check out my video series on just that.