I was having all kinds of issues with BackupBuddy and GoDaddy shared hosting. It actually goes beyond just BackupBuddy, as I was having similar issues with other backup plugins before I took the plunge with BackupBuddy.
The Updraft Plus plugin would crash my site while it attempted to run. Duplicator would throw errors that it couldn't complete my backup.
I figured if I'm having these issues, there has to be a number of others that are having similar issues with GoDaddy hosting and getting their backup's to run.
Backup Plugin Issues With GoDaddy
What kind of issues was I having?
How about my site crashing for upwards of 12 hours when I was trying to use Updraft Plus with GoDaddy. It would spike my server resources so much during the backup process that my site would crash.
While Duplicator didn't crash my site, I could never get the backup to finish processing. It would always throw an error saying it couldn't complete the backup.
That's when I finally decided to pay for a premium backup plugin, and I went with BackupBuddy.
Issues With BackupBuddy And GoDaddy Shared Hosting
First things first. Check the resources you have with your current GoDaddy shared hosting plan. I was on their Level 1 plan and they are a little stingy on the CPU and RAM. You can see a comparison of their Level 1 vs. Level 2 resources in the screen shot below.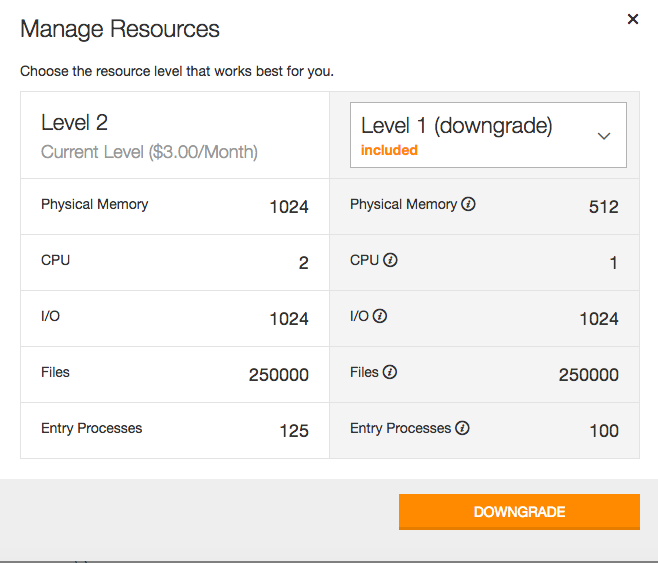 The problem with Level 1 resources on GoDaddy, is my RAM and I/O was constantly maxing out when trying to run a backup.
You'll need to upgrade to Level 2 if you want any chance for your backups to complete. This made a considerable difference on my site, and is well worth the $3 month upgrade.
While this helped, it didn't completely remove the issue I was having with BackupBuddy and GoDaddy. You'll need to tweak a few settings.
Go to BackupBuddy Settings, and select the Advanced Settings / Troubleshooting Tab.
Scroll down to the Zip Section, and make the following changes:
This should fix any issues with BackupBuddy and GoDaddy shared hosting. I had this problem on multiple sites, and this fixed it in every case.