Well it's that time here in Michigan, time to start thinking about putting the bike away for the long winter. While I'm still holding out for one last ride as we come into November, I've already started thinking about winterizing my Thruxton.
With that said, here are some motorcycle winterization tips to be aware of.
Motorcycle Winterization Tips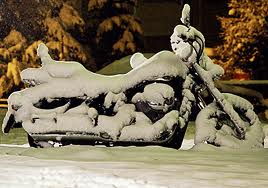 The topic of winterizing your motorcycle can cause a whole lot of debate. It seems that everyone has their own perspective on what works and what you should do. The tips that I outline below are the things that I've done every winter to winterize my motorcycle's. I've never had an issue, it doesn't take a great deal of time, and there's not a lot of prep required when you break your bike out in the Spring.
Onto the motorcycle winterization tips…
Fuel
This is an easy one, and requires that you take the bike on one last ride. 🙂
I try to burn as much as the old fuel out of the tank as possible, especially if it's been a while since my last fill up. At the end of this final ride, I top the tank off. I normally run 87 Octane, just because there's no reason to spend the extra money on anything more then that — that's a whole other debate. However for my last fill up, I tend to gas it up with at least 89 Octane.
Once I get the bike home, I add a fuel stabilizer to the tank, and take her for another quick run to ensure the stabilizer has worked it's way through the entire fuel system. A little over kill perhaps, but hey, it's another excuse for a ride.
Battery
I've never disconnected the battery and taken it into the house. I simply hook it up to a trickle charger and leave it connected on the bike.
The 2013 – 2014 winter in Michigan was especially cold, but I didn't have any issues with the battery. Now granted, it's a newer bike with a new battery, so you may want to rethink this if your battery is a bit older. I will say that on my previous bike, which did have a battery that was over 5 year's old, I used this same approach without any issues.
Oil
If the last time you changed your oil was at the end of the last riding season, or the start of the current season, you'll probably want to change your oil and filter. Over time your oil can pick up a lot of contaminants from the engine, and you really don't want that sitting in your bike for an extended period of time.
If you changed your oil recently, within the last 500 miles or so, save your money. I had my 500 mile service done in September of 2013, and asked the Triumph technician what he thought about changing my oil again before winter. His reply, as long as I wasn't planning on putting Thousand's of miles on the bike it wasn't necessary.
If you don't happen to change your oil as part of the winterization, I do suggest changing it in the spring.
Tires
Keep the tires inflated as much as possible during the winter month's. I check them one last time after my final ride (after letting them cool down), and fill them up to the recommended tire pressure. I try to check the pressure every month or so during the winter months, and if needed I top them off.
I also place a piece of carpet or plywood under both the front and rear tire as part of the winterization effort. Rubber has a tendency to crack if it get's too cold, so keeping a barrier between the rubber and freezing cement floor will help protect the rubber.
Critter Care
We have a lot of mice and chipmunks in our area, and they like to find a nice warm (or at least warmer) garage to camp out for the winter months. The last thing I want is for them to use my motorcycle as a den, so I take the time to ensure that won't happen.
I don't like to use rags to stuff them into the exhaust opening, as the rags can attract moisture and possibly cause rust on my pipes. Instead I ball up a dryer sheet and stuff that into the openings of my exhaust. I'll also cram a couple of dryer sheets into any other areas of the bike where I feel a critter may like to take refuge. You don't want them chowing down on any wires during the winter.
Cover
If you don't have a breathable cover, try to store the bike away from any window's in a nice dark corner of the garage.
If you do plan on covering the bike, be sure the cover is breathable, and don't use an old cotton sheet. As I mentioned above, cotton can attract moisture and you don't want that sitting against your bike for an extended period of time.
Other Thoughts
I'll also spray a light coating of WD-40 on any other exposed metal parts, including the exhaust. This light oil acts as a barrier against moisture, and will go a long way in protecting against rust and corrosion.
Whatever you do, do not plan on starting up the bike to let it run for a few minutes during the winter. The last thing you want is any condensation to form inside the engine, and if you don't run the bike for long enough, that's exactly what you'll have. Avoid that temptation, unless you are planning on taking the bike out for an extended run.
Those are my motorcycle winterization tips. If you have anything else to share, or tips of your own, please leave them in the comments below.