If you're a Triumph fan, than it's probably not news to you that they recently announced the all new Triumph Bonneville Models for 2017.
If you're not a follower of Triumph, but happen to like the looks of any of these new machines, than keep reading. I hope to give you an all-in-one guide of the latest and greatest Triumph Bonneville models for 2017.
The new Bonneville models includes the following bikes:
Bonneville Bobber
Bonneville T100 and T100 Black
Street Cup
There's been spy shots floating around for the last year or so on the Bonneville Bobber, and Triumph made it official last week.
Not The Same Ole Triumph
Up until a year ago, Triumph was struggling with their model line up. Every year, it was the same old thing. Slap some new paint, pin stripes, and logo's on an aging platform, and call it a new thing.
It got kind of old. Folks were clamoring for new things:
Updated Engine
Anti-Lock Breaks
Water Cooling
Suspension Control
And every year, we just kept waiting.
Then a year ago, Triumph thew us all a curve ball, and rolled out a new lineup of their Bonneville and Thruxton models. And did they ever hit a home run.
Now, just a year later, they did it again. We have 4 new models to choose from. So let's take a look at the all new Triumph Bonneville models for 2017.
New Triumph Bonneville Models For 2017
Three new bikes, well technically four, broken down into three different reviews. Spoiler alert, I like the Street Cup the best!
Bonneville Bobber
When I first saw the spy shots of this last year, I wasn't too crazy about it. Seeing this bike now has converted me. I've never really been a fan of the Bobber look, but Triumph outdid themselves on this one.
Clean lines, low profile, single seat, wide flat handlebars, minimalist headlight, and a wide rear wheel, all make this Bonneville Bobber a thing of beauty.
Triumph started with the T120's 1200cc engine, and gave it a unique Bobber tune for more torque and low-down power. The diagonal sliced exhaust give the Bobber a look that is all too awesome.
The single seat can be moved to give you a more sporty forward look, or moved back and down (27″) for more of a cruiser feel.
The Triumph Bonneville Bobber could well be on my wish list.
Bonneville T100 and T100 Black
Not the biggest fan of the T100, but I do like the style of the all new T100 Black.
Consider the T100 as the entry point to the Bonneville lineup.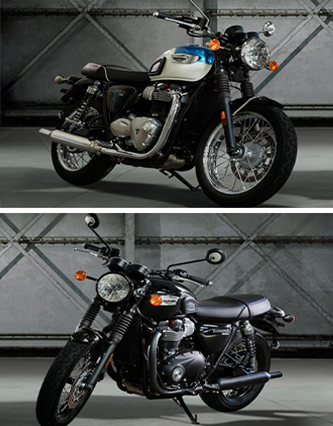 The T100 differs from the 2016 T120 model in a few different aspects. First off, the T100 has the 900cc engine vs. the 1200cc that that T120 has. Don't let this fool you. It is a high-torque engine that gives you the power when you need it.
The T100 is also lighter than the T120 and has a shorter wheel base and rake, making it ideal for a new rider.
If you're into chrome, go with the T100, if not it's the T100 Black. Get it? The black version pretty much blacks out the pipes, exhaust, engine covers, and rims. It's an awesome looking bike.
Standard on every Bonneville T100:
ABS
Ride By Wire
Liquid Cooling
Switchable Traction Control
Torque Assist Clutch
LED Tail Light
Twin Dials (speedometer and tachometer)
The Triumph Bonneville T100 and Bonneville T100 Black, are the perfect addition for an entry level bike.
Triumph Street Cup
I was expecting to see the all new Triumph Street Cup. Wow! Totally reminds me of the Thruxton, but even cooler.
The Triumph Street Cup is the sibling, if you can call it that, of the Triumph Street Twin introduced in 2016 but with a street racer attitude.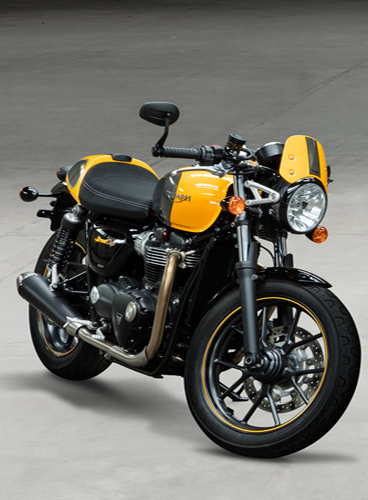 Did I mention the yellow pin stripping on the rims?
The Triumph Street Cup has an engaging riding position with smooth and nimble handling. Dropped ACE Bars, dedicated rear suspension, bullet seat, and cafe racer seat cowl round this baby's style out.
You'll get the same 900cc high-torque engine as the T100, specifically tuned to handle the twisties. Exhaust is a lighter upswept, satin black and stainless steel silencer.
You'll find the same standard features on the Street Cup as the T100, you'll also be treated to the following:
Authentic Bullet Seat
Cafe Racer Seat Cowl
Color Matched Fly Screen
Bar End Mirrors
Thruxton Style Foot Pegs
Bullet Turn Indicators
The Triumph Street Cup is by far my favorite of the new 2017 Triumph Bonneville models. Now I've got to decide if I want to replace my Thruxton with this or the new Bonneville Bobber.
Choices, choices, choices…