I purchased the Speed and Strength Moment of Truth 2.0 glove just about a year ago, and wanted to post a quick review to let everyone know my thoughts of this motorcycle glove.
Speed and Strength Moment of Truth 2.0 Glove Review
While there seems to be a number of reviews out there on this particular glove, it's hard to find one from a person that's actually used this glove for an extended period of time. That's where I come in, and I hope you find this review helpful if you are currently looking at purchasing the Speed and Strength Moment of Truth 2.0 glove.
Product Description
Leather & textile frame
Reinforced leather palm
High density knuckle padding
Padded finger protectors
Pre-curved race cut fit
Hook and loop wrist closure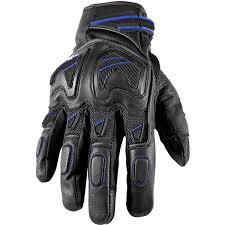 My Review
While it's true it's made of a leather and textile, this is definitely a warm weather glove. The palm is all leather, but the back of the hand is a combination of mesh and leather. The high density knuckle padding is really nothing more than some small leather pads at the top of the finger. The lower knuckle pads, while offering protection, are some raised bits of material that seem more decorative than anything. There is also some additional leather padding on the back of the hand, similar to that at the top of the finger. If you are looking for a lot of protection, this is probably not the glove for you.
This is a great glove for those hot summer days, and it does offer you some protection. In my opinion, the glove will provide your more protection than most all mesh gloves as it does provide you some padding on the knuckle and back of the hand. My hands stay cool on a very hot day and they don't seem to sweat. The glove is not meant for cooler days, as the wind will blow right through to your hand. I've found they are not warm enough for me when the temperature is below the mid-60's.
How's the fit? I have smaller hands, so I went with the medium and they fit just perfect.  The sizing chart on the Speed and Strength site is spot on. If I had a complaint about the sizing it would be around the wrist opening. There were very difficult to pull on initially, but once on your hand they fit fine. The wrist opening has stretched out over the past year, so they are not as difficult to pull on now as they were when they were brand new.
So how have they held up? Well as I said at the start of this post, I've owned the glove for just over a year and they've held up great. There is no fraying of the mesh material, no tearing of the leather, no separating at the seems. It appears to be a very well constructed glove.
Purchasing the Speed and Strength Moment of Truth 2.o Glove
You can find this glove pretty much anywhere on-line, at any of the stores the sell motorcycle apparel. The easiest way to shop for it (or pretty much anything for that matter) is right on Amazon. I've found a number of the on-line motorcycle stores also sell through Amazon, and it's a whole lot easier shopping on one place that having to search through a number of different sites looking for your size and color preferences.
Here's a link to Amazon and all the [easyazon_link keywords="Speed and Strength Moment of Truth 2.0″ locale="US" tag="c0b7ba-20″]Speed and Strength Moment of Truth 2.0[/easyazon_link] gloves that are currently being sold. Prices range from $29 all the way to $50. Be sure you are getting the best deal and the right glove.
I hope you've found this review helpful, and if you have any other insight to share on the Speed and Strength Moment of Truth 2.0 glove, please leave a comment below.
Ride safe!
[easyazon_image align="left" height="160″ identifier="B0049MD1CY" locale="US" src="http://www.craigerson.com/wp-content/uploads/2015/08/51Y2LdPew9L.SL160.jpg" tag="c0b7ba-20″ width="160″]
[easyazon_image align="left" height="160″ identifier="B0045FXOA4″ locale="US" src="http://www.craigerson.com/wp-content/uploads/2015/08/511jGXQRSL.SL160.jpg" tag="c0b7ba-20″ width="160″]