First off, I'm not an Apple Slappy. I use the best technology that's available to meet my needs.
I recently made the switch from Android to iOS 8 after much deliberation, and so far, I haven't looked back.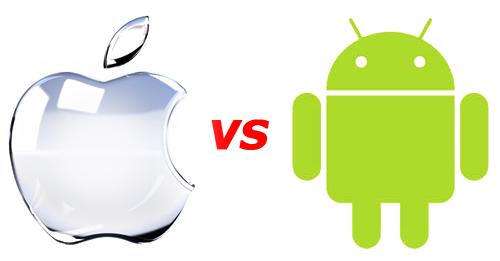 Making The Switch From Apple to Android
Before we get into the specifics of me switching from Android to iOS 8, I think it would help if you understood why I originally made the move to Android.
I got tired of Apple's antics — their attitude on we know what you want more then you know what you need. I was using the iPhone 4 when I made the switch to Android. I didn't like the small screen, and I wasn't overly impressed with iOS back then.
I made the switch to Android (Samsung Galaxy S3) mainly because of the bigger screen size, but I was also interested in the ability to customize various aspects of the phone that I couldn't do with the iPhone. I immediately realized the benefit with being able to…
Add my own keyboard
Notifications (more on that later)
Custom text message client
Not having to rely on iTunes
Integration with Google Services
And a host of other features that were available on the GS3
But everything wasn't perfect. There were a number of things that started annoying me about Android, which led to my decision to switch back to the iPhone and iOS 8 when my wireless contract was expiring.
Let's take a look…
The Switch From Android To iOS 8
The decision by Apple to to create a larger screen iPhone had a lot to do with my decision to make the switch to Apple. Frankly, if they hadn't created the larger screen, I'd still be using Android, albeit on another phone platform.
Here's the things that led to my decision, as well as my initial thoughts on how these perform under iOS.
Battery Life
Android's suck on my battery was the most frustrating. From the day I purchased the GS3, I immediately noticed an issue with battery life. I used various utilities to help improve the battery usage, and while they did help, it couldn't compare to what I was used to on my iPhone.
Switching to the iPhone 6, I couldn't believe the difference. I'm using my phone in the same manner as my GS3, and the difference is night and day. By noon I still have over a 90% charge on my iPhone, where with my GS3, I would be anywhere between a 40% and 60% charge.
I would typically need to charge my Android phone before I left work for the day, or at a minimum charge it on my commute home. With the iPhone 6, I can easily go 2 days without having to charge it.
Edge: Apple & iOS 8
Run Away Processes
A common occurrence with Android. My phone was constantly overheating because of run away processes or applications. This led me to installing more utilities to deal with this issue so I could kill these run away processes. Which of course led to the issues with battery life.
Haven't experienced this issue at all using iOS 8.
Edge: Apple & iOS 8
Bloatware
Couldn't stand all the pre-installed applications that came with the GS3. Samsung got a little carried away with all of their applications that came pre-installed, and you couldn't do a damn thing about it.
The beauty of Apple, you don't have to deal with this at all.
Edge: Apple & iOS 8
Applications
While I didn't have a problem with the functionality of the applications on Android, what I discovered was they were much easier to use on iOS. It's hard to say if this is related to the the user interface or just general design of the app.
I can't put my finger on this, but I like the way most apps work under iOS 8 better.
Edge: Apple & iOS 8
Notifications
This is one thing I loved about Android, and the thing that gave me the most heartburn on having to give up on Android.
While I'm still getting used to the notification functionality on iOS 8, I'm finding it's not all that bad. I would still give Android the edge in this area. We'll talk about that more in another post comparing Android notifications to iOS 8 notifications.
Edge: Android
Widgets
Loved the ability to add Widgets to my screen under Android, and you can't compare this to the new functionality that was added in iOS 8.
If you don't know what a Widget is, it's part of an installed application that's always available from any Android screen. These sub-applications are typically running and display a snippet of information so that you don't need to launch the full application. I used this frequently under Android
In iOS 8, Apple added Widget functionality, but you need to go into your notification center to see it in action. The functionality is somewhat limited, and I'm not a big fan of the way it's implemented.
Here's a more thorough explanation of the Widget functionality is iOS 8.
Edge: Android
Viewing Images
Android was great when it came to viewing images. It was nice being able to view my images by type, rather then have everything lumped under one category.
Let me explain. On my GS3, when I opened up the image application, I could browse images by the following categories:
Camera
Downloads
Screen Shots
Other applications
In iOS 8, I seem to be stuck having to browse all images by either the camera roll or the photo stream. It just makes it a bit harder to find things.
Edge: Android
iOS 8 Gets The Edge
The above items sum up why I am switching from Android to iOS 8. The decision was much easier since Apple came out with the larger screen, although I was still very hesitant given some of the things I liked about Android.
I have to say, I've been very impressed with the iPhone 6 and iOS 8, and haven't regretted my decision to switch (yet).