I got tired of toting around a back pack every time I ran to the store on my Thruxton. I needed something a little more convenient, with the ability to hold a bit more than I could cram in my everyday back pack.
What I needed was a Triumph Thruxton Tail Bag, that looked good and did it's job. I found one. The Kriega US-20 Drypack! Best tail bag for the Triumph Thruxton!
Triumph Thruxton Tail Bag Options
Before we get into the Kriega, I'll give you some insight into the other motorcycle tail bags I was researching, in case your tastes are a little different from mine.
Cortech 2.0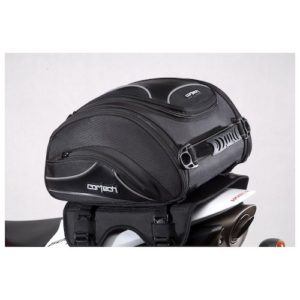 Nelson-Rigg
Ogio Stealth Bag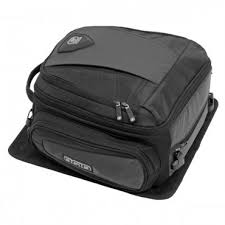 While I liked some of the features provided with both the Cortech and Nelson Rigg, I wasn't a fan of the bulk. I didn't think they'd look right on my Thruxton.
The Ogio Stealth had potential, but at the end of the day, it reminded me too much of the other tail bags.
I also wasn't thrilled with the attachment options on any of these tail bags, I kept coming back to the Kriega.
None of these were really a valid Thruxton tail bag option for me.
Best Triumph Thruxton Tail Bag – The Kriega US-20
So what's so great about the Kriega? A picture's worth 1000 words right, so how about 4 pictures of the Kriega US-20 tail bag on my Thruxton.
What's not to love. The first thing that drew my attention to the Kriega US-20 was how sleek it looked. No bulky tail bag like the other three I was contemplating.
Second was the attachments. Couldn't be easier. Simply attach the 4 provide straps to the frame of the bike. These straps stay put whether you have the tail bag on or not. In my case, they easily tuck under the cowl when I'm not using the bag, and you can barely tell they are there.
When it's time to attach the tail bag, there are 4 additional straps that come with the bag. Simply take the metal hook and loop it into the strap you attached to the frame. The other end of the strap snaps onto the bag itself, and you cinch it down so it's tight.
How Much Can This Tail Bag Really Hold?
So it looks great, but how much can the Kriega US-20 really hold?
This was one of the things that concerned me. The Kriega US-20 holds 20 liters. But what the hell does that really mean?
I mainly purchased this so I could rid myself of that backpack when commuting to and from work. I needed to put my bulky work laptop, a pair of dress shoes, and a rather thick lunch cooler in any tail bag for this to work for me. It holds all of that, and then some…
I've also used it on various runs around town. I was able to cram a medium paper grocery bag stuffed with stuff on my way back from the butcher shop. Now granted it was a bit of a tight fit, but it did it's job.
Kriega US-20 Tail Bag
In summary, I'm extremely happy with this tail bag for my Triumph Thruxton.
Not only is it a great Thruxton tail bag, but did I mention it's a dry bag as well? I've also used the Kriega on a white water rafting expedition in Wyoming to hold my camera and a few other things. When you're not using it on your bike, you can take it anywhere.
The nice thing about the Kriega system, is they have a whole line of bags. These different bags all work together via their attachment system. So if I ever get the urge to tour, I can easily add other bags to the mix.