Are you tired of your stock Triumph Bonneville exhaust sound, or maybe you have the same frustration with the Triumph Thruxton exhaust? In any case, does it sound like a sewing machine? Want to give your bike some character in the sound department?
Then it's time you think about upgrading the exhaust on your Triumph Bonneville or Triumph Thruxton. The easy part is making the decision to upgrade the exhaust. The difficult part is determining which exhaust system to upgrade to.
There are a number of different options to choose from when it comes to Triumph after market exhaust systems. Some people are looking for pure loudness. Others are simply looking for something that reminds them of the classic Bonneville or Thruxton sound without offending their neighbors.
The struggle for many is what exhaust system do I choose? Many of the questions I've seen are related to which exhaust system is louder than this exhaust.
I put together this little infographic to give you a comparison on various Triumph Bonneville exhaust sounds for the different after market systems. I gathered this data from a number of various sources, as I'm currently in the process of upgrading the exhaust on my Triumph Thruxton.
Note: Just replaced the stock pipes on my Thruxton with the Dominator Touring exhaust if you'd like to take a look. 

Triumph Bonneville Exhaust Sound Infographic
This infographic was created based upon hours of research on the various exhaust options available for the Triumph Bonneville and Thruxton. I by no means claim to have heard each of these exhaust systems (at least first hand). Keep in mind, sound is very subjective, and what's loud to one person can be quite tame to someone else.
The cost is based upon MSRP from various after market vendors. You can find these Triumph Bonneville exhaust systems quite a bit cheaper from other sources. Do your homework before buying.
Sound scale is based upon 1 – 10 (1 – quiet / 10 – loud).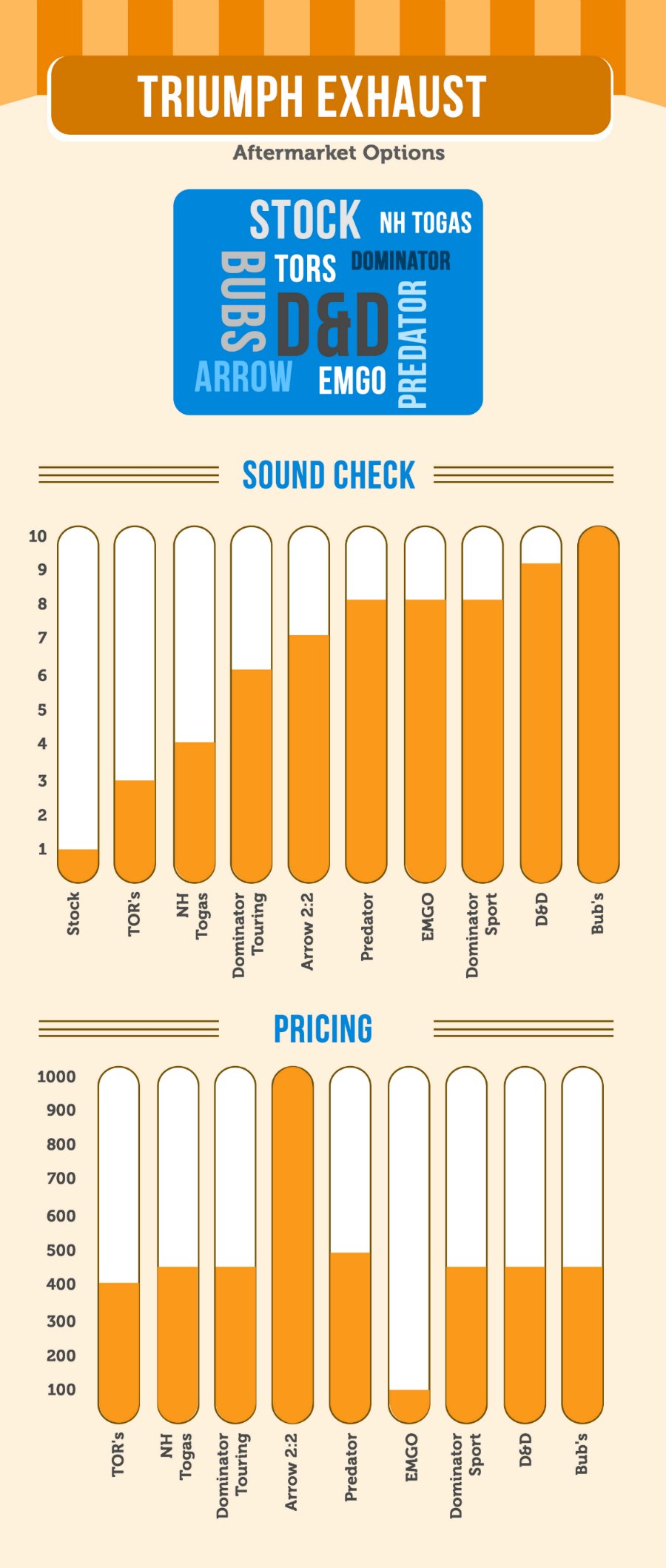 If you disagree on any of the Triumph Bonneville exhaust options I have in the above graphic, by all means let me know.  I'd like to make this as accurate as possible.