After months and months of analysis and research, I recently purchased a brand new 2013 Triumph Thruxton.  I thought I'd write a quick post on my observations of the Triumph Bonneville vs. Triumph Thruxton, to help others who may be trying to decide between these two great bikes.
Why Triumph
Well, my father-in-law has been buying and restoring older Triumph Bonneville's for years, so he's the first person that got me hooked on the Triumph brand.
My brother-in-law purchased a new 2007 Triumph Bonneville Black back when he started to ride, and has had nothing but good (make that great) things to say regarding the bike.
Finally there's the cool factor.  I wasn't looking for a super sport bike or a cruiser, but was looking for something different that looked cool.  You don't see many Triumph's on the road, at least where I live, and the Bonneville and Thruxton both have that cool retro look. Once I got past looking at the Street Triple, don't need that much power, I pretty much settled on the Bonneville.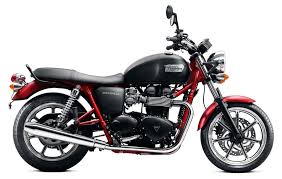 The Bonneville
On my third trip to the Triumph dealership, after sitting on the Bonneville many times, I finally decided I wanted to take the Bonneville for a test ride.  After 5 min. of paperwork, they started one up for me, explained the controls and told me what route to take.  A solo test ride, seriously?
Well off I went.  It wasn't a long test ride, but it was enough for me to get a feel for the power and acceleration and realize this was more than enough bike for me.  The one thing I didn't like about the Bonneville was the placement of the foot pegs.  It may have been how I was sitting on the seat, but the pegs were situated in such a way that they interfered with how I was putting my feet down at a stop.  I had to situate myself to put my feet down behind the pegs or in front of the pegs, and it was somewhat awkward.  I'm sure I would have gotten used to it, but it just felt a little weird.
If you're interested in comparing the different Bonneville models, read my Beginners Guide to the Triumph Bonneville. I also recently took an extended ride on a Bonneville in the canyons of Colorado, so you can read my thoughts on how the Bonneville handled.
The Thruxton
As I was getting ready to leave, I took another look at a Thruxton that was on the dealership floor and decided to sit on this to see how I like it.
Now the Thruxton has a bit of a sportier look then the Bonneville, and this is what drew my eye to that.  I just liked the looks a whole lot better then the Bonneville, but my concern was the sportier riding position and how comfortable this would be for my 48 year old body.
Unfortunately, the dealership didn't have a Thruxton that I could take out for a test ride, so I'd have to rely on some research before I could make a decision.  After that visit, I spent countless hours researching the riding position of the Thruxton, reading reviews, visiting forums, and watching YouTube videos.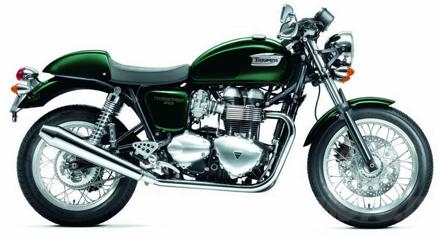 The decision
Of course I went with the Thruxton (Brooklands Green).
There were a number of factors that went into this decision.  First off the Thruxton has a more sportier ride, I really like the forward lean with the rear set foot pegs, but it wasn't so much were it appeared it would be uncomfortable (at least based upon my seat time at the dealership).
The salesman I was talking to said they could rotate the bars a bit to bring them closer to me so the forward lean wasn't as much, and they could put a different bar on if it was too uncomfortable. However, you need to be careful as there is only so much play in the cables that lead to the clutch, throttle, and brake controls.  So if you do decide to put a different set of bars on that will raise them up, you may run into additional expenses to extend the cables.
The Thruxton also comes with a tachometer, which the standard Bonneville doesn't have.  The Thruxton also has a bit more horsepower and torque then the Bonneville due to some higher compression in the engine (so they say).  Both the front and rear suspension on the Thruxton are adjustable for pre-load, where the Bonneville only has an adjustable rear suspension.  Finally, there's the look.  The Thruxton has that awesome looking seat cowl that gives it that cafe racer look, and the bike looks amazing if you eliminate the rear fender.
After putting 250 miles on the bike in the first week, I can tell you I made the right decision.
Every time I see the bike sitting in the garage, I find myself standing there just staring at it.  It's an awesome looking bike.
The riding position is perfect for me.  Took me a bit to get used to on my first few rides, but now it's just a matter of jumping on her and my feet automatically go to the rear set foot pegs.   As long as you remember to use your core muscles, and keep the weight off your wrists, the riding position is very comfortable.  This isn't as difficult as it sounds, and is much easier when underway as the wind actually helps you stay more upright.
I don't regret purchasing the Thruxton at all.  While both are great bikes, I prefer the looks of the Thruxton over the Bonneville, and absolutely love the riding position.
Oh yea, a little about me.  I'm 48 years old, stand 5′ 8″, have an inseam of about 30″, and weigh 160 lbs.  I can easily flat foot the bike, which was a requirement for me for any bike that I was going to buy.
If you have any questions, feel free to post a comment and I'll be happy to respond.
Edit:  In just over 2 months I've put close to 1000 miles on the new Thruxton, and couldn't be happier with my purchase (read my 1000 mile Thruxton review). I'll also follow this post up with a 1 year review when I get the chance.
One conclusion I've made is it's needs some louder pipes.  The stock mufflers are way to quiet! Not that I'm looking for something that is extremely loud, but the poor bike needs something that will give it a little more character.  I created a simple graphic comparing after market exhaust options that should give you some upgrade options.
Edit: I recently (May 2015) upgraded the stock exhaust to the Dominator Touring exhaust. Crazy difference!
Haven't had any concerns with the suspension, but many other Thruxton and Bonneville riders say that's one of the first things that need to be changed.  I'll stick with the stock suspension for a while, as I can live with that.
Edit: The stock suspension is terrible! That will become obvious the more you ride it. You'll want to upgrade that pretty quickly, and I went with the Hagon Road Shocks.