Once I decided to give Triumph a serious look for my next motorcycle, I had the challenge of deciding which Triumph to go with. You see, I didn't know much about the brand, and couldn't tell the difference between a Bonneville, Thruxton, or Scrambler, let along the various Triumph Bonneville models that existed.
Consider this a quick little cheat sheet on the various Triumph Bonneville models that are currently being manufactured.
Edit: Follow this link if you're interested in the latest and greatest 2017 Bonneville Models.
Triumph Bonneville
If you think the Bonneville is just a single model, guess again. For the 2014 model year alone, there are 3 different Bonneville's that you can choose from (and that doesn't even include the Thruxton).
All 3 models share the same platform, meaning they have the same engine, frame, and basic suspension (with some subtle differences). Let's take a look at what you get in the Bonneville, regardless of the model:
Engine: An 865cc, air-cooled, DOHC, parallel twin
System: Multipoint sequential electronic fuel injection
Drive: X-Ring Chain
Gearbox: 5 Speed
This is where things get a little different, based upon the model that you choose. Let's break down the difference in all 3 models, and I'll throw in the Thruxton for kicks (since that's my fav).
Triumph Bonneville (Base)
This is my personal favorite, as it looks a bit more modern then the other models. I could be opening a can of worms here, as this one differs the most from the classic Triumph Bonneville look.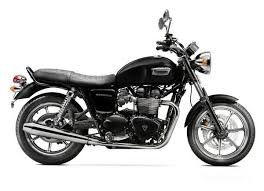 Wheels: 17″ Alloy 7 spoke wheels (front & rear)
Seat Height: 29.1″
Weight: 460 lbs. (dry weight)
The cockpit is pretty basic, a speedometer and indicator lights for oil pressure, neutral, bright lights, and turn signal indicators.
Triumph Bonneville T100
This is more of the retro look Bonneville. It has the spoke wheels for the more classic look and comes standard with the pea-shooter exhaust. Think 1960's era Triumph.
Wheels: 19″ 36 spoke (front) / 17″ 40 spoke (rear)
Seat Height: 30.5″
Weight: 471 lbs. (dry weight)
You have a few more options in the cockpit then with the standard Bonneville, although it's pretty basic when compared to more modern bikes. In addition to the speedometer you also have a tachometer, and the indicator lights (same as above) are integrated into the speedometer dial.
Triumph Bonneville T100 Black
Think Bonneville T100 with some sass! You get all the goodies of the T100, with blacked out rims, handlebars, engine case, and mirrors. It has the retro look, along with attitude.
Wheels: 19″ 36 spoke (front) / 17″ 40 spoke (rear)
Seat Height: 30.5″
Weight: 471 lbs. (dry weight)
The cockpit is identical to the T100.
2015 Bonneville Models
In October of 2015, Triumph announced their 2015 model year lineup. It's really the same as the bikes we just discussed, but they also released 3 new "special edition" models to go along with the existing lineup.
Previous Year Models
Triumph is constantly tweaking things across their Bonneville line up. Don't just assume what I have here for the 2014 models is what you will get on an earlier year model.
Triumph Thruxton
The Thruxton is a whole different animal. Well maybe that's a stretch, it's really just another Bonneville that has a sportier look and feel. You get the same engine, along with rear set foot pegs and a more sportier lean on the handlebars. It's more along the lines of the T100, with a bit of a smaller front wheel. Think cafe racer of the 1960's!
I wrote some of my observations in a previous post on the Bonneville vs. Thruxton, so be sure to read this for some added flavor. You can't go wrong with the Thruxton!
Wheels: 18″ 36 spoke (front) / 17″ 40 spoke (rear)
Seat Height: 32.3″
Weight: 471 lbs. (dry weight)
Again, the cockpit layout is similar to the T100, except the dial face is all white (compared to the black of the T100).
Summing It Up
While not meant to be the end all be all guide to the Triumph Bonneville, hopefully this gave you enough to sort some things out. Each of these bikes has their own character and feel.
The beauty of the Triumph brand is you can take a test drive on most of these bikes. So find your nearest Triumph dealer and schedule a test ride. You'll be amazed at how simple the process can be.