If you read all of the press, you'll know that the Triumph Thruxton gas mileage numbers are in the range of 43 mpg/city and 57 mpg/hwy. Triumph also states that the gas tank has a capacity of 4.2 gallons, which would infer that you can get at least 180 miles of city driving out of a full tank of gas.  What these numbers don't tell you is how much of that tank capacity is actually useable. So lets take a look at some actual numbers.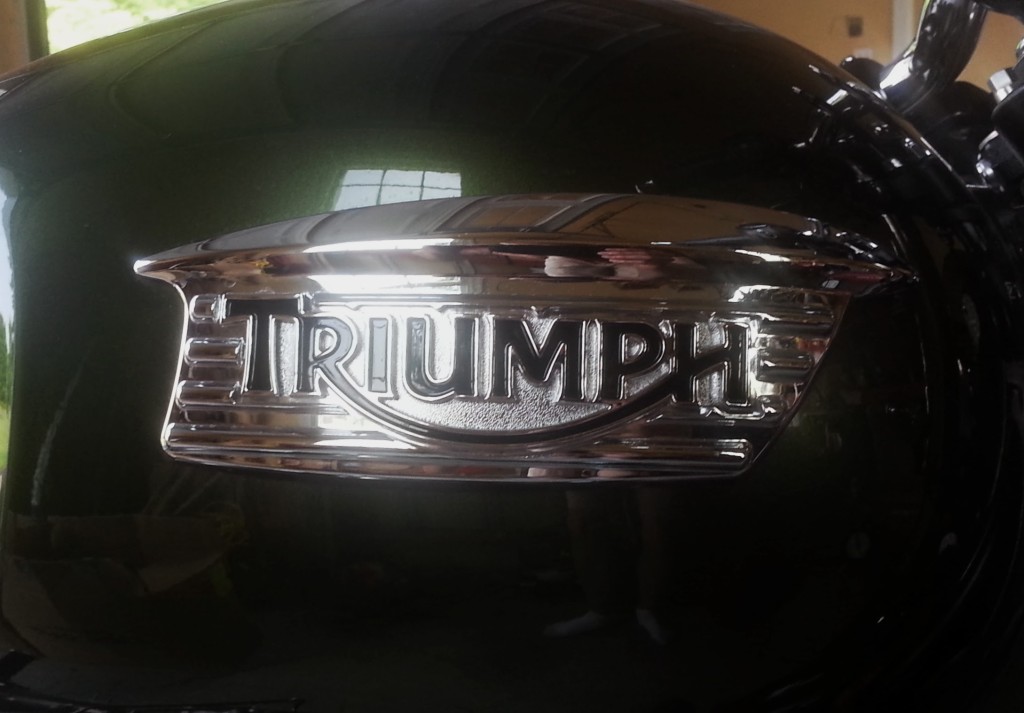 Background On My Thruxton
Since I bought my bike, I've been monitoring on a pretty regular basis the MPG I've been getting between each fill up.  Thought it would be interesting to graph this out and share it with my fellow Thruxton riders.
First, some background.  My Triumph Thruxton is a 2013 model that I've had for just under a year at the time of this writing. This is pretty much a stock bike.  I haven't gotten around to changing out the exhaust (which is on my short list), nor have I done any other engine modifications like AI removal, air-box removal, etc… So the numbers you'll see are what one should expect from a new Thruxton right off the showroom floor.
If you are interested in seeing the impact of upgrading the exhaust can have on your gas mileage, I've done that as well.
Triumph Thruxton Gas Mileage Chart

As you can see from the above graph, when I first got the bike (which was brand new), I was seeing between 41 – 46 MPG in the first year. Based upon all of my fill up's in that first year, the average gas mileage I was getting on my Thruxton was 42.33 MPG. This average is based upon the first 1000 miles I put on the bike.
In the second year (so far), you'll notice a slight increase in the MPG. I've been seeing anywhere between 39 – 46 MPG, but the average has been slightly higher at 43.6 MPG. I attribute this slight increase to the engine being broken in since I had already put over 1000 miles on the bike in my first year.
I'll be sure to update this from time to time to give an accurate reflection on the Triumph Thruxton gas mileage you can expect as more miles are put on the bike and as I make additional modifications.
Riding Habits
So what are my riding habits? I primarily ride in the city, seem to avoid highway riding as much as possible. Most of my miles are spent commuting a couple of times per week in heavy stop and go traffic, with the occasional pleasure ride on the weekends. In my first year I was a little more conservative in my riding as it was a new bike, and I was being careful during the engine break-in period. This year I haven't been afraid to get on the throttle and haven't been nearly as conservative.
Gas Tank Capacity
What about that stated gas tank capacity of 4.2 gallons? The low fuel light on my Thruxton typically starts blinking between 110 – 115 miles, and has a steady glow by the time I've put 120 – 125 miles on between fill ups. Lately I've been filling up right around 140 miles, and it's been taking roughly 3.1 gallons to top off the tank. That would lead me to believe I have at least another gallon in the tank, and should therefore be able to get another 40 miles before I'm out of gas.
Well not exactly true. If you read the boards over at the Triumph RAT forum, you'll see a number of posts where folks were assuming that exact same thing. Come to find out, there are only about 3.7 – 3.8 useable gallons in the gas tank. So assuming that, and using my average gas mileage from above, I should be able to get just over 160 miles out of a full tank of gas.
So that's it really. Hopefully this will give you an indication on what you can expect for gas mileage if you are in the market for a new Triumph Thruxton. If you currently own a Thruxton, how does your actual gas mileage compare to these numbers? What was the impact to your Triumph Thruxton gas mileage based upon any modifications you've done? Leave a comment below, I'd be interested in comparing numbers.