A few months back, I posted my observations comparing the Triumph Bonneville and Thruxton as I was shopping for a new bike.  I've put about 1000 miles on my new 2013 Brooklands Green Thruxton, so I thought it would be beneficial to do a quick 1000 mile 2013 Triumph Thruxton review.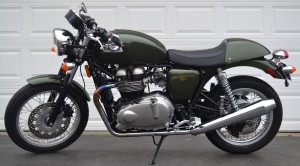 2013 Triumph Thruxton Review – The Good
First the good.  I love the thing.  It may not be a super sport with gobs of horsepower, but if you're reading this review that's probably not what you are looking for anyway.
It has enough power for me to accelerate from a dead stop or at cruising speed and out run pretty much anything that I want to.
I love the looks of this bike.  It has the classic retro style and it still has a bit of a sporty look, and the best thing about it is there's not a lot of others like it on the road.
I absolutely love the riding position.  It seems there is a lot of concern about the riding position in that people think it will be too aggressive, but I find it very comfortable.
Note, I'm not using clip ons. I use the bike as a commuter when I can, and I deal with a lot of stop and go traffic during rush hour, and I've never complained about being uncomfortable on my hour long commutes.
The bike is extremely dependable, and I have yet to have any issues.  I also like the fact that you can make this your own, as the mods one can make are never ending. Oh, and the gas mileages one can expect on the Thruxton isn't bad either.
2013 Triumph Thruxton Review – The Bad
Now the bad.  The worse thing that I can say about the bike is that it sounds like a sewing machine with the stock exhaust. Granted you can mod the bike to no end, and I do plan on upgrading the exhaust this spring, but I shouldn't have to pay extra for that.
Edit: Took me a bit longer than I wanted to upgrade the cost, but I finally got around to doing that. I went with the Dominator Touring, and it made a world of difference.
The bike is also a bit jerky in the low rpm range in first gear, but nothing that is overly annoying. Apparently this can be easily fixed with a few mods, but I'll wait for the bike to be out of warranty before I start screwing around with that.
People also seem to complain about the suspension, but I don't have any complaints with the stock set up (at least right now).
Edit: I was wrong, the stock suspension sucks. Kind of realized that after a few years of riding, which is why I just upgraded the rear shocks.
I'm also not a fan of the bulky rear fender and taillight set up, but that's pure cosmetic, and can be remedied with a Fender Eliminator Kit.
That's a wrap on my 2013 Triumph Thruxton review, both the good and bad.  Would I recommend the 2013 Thruxton?Absolutely yes!  I have no regrets with the purchase and plan on keeping my Thruxton for a very long time.